Top stories from The Chronicle: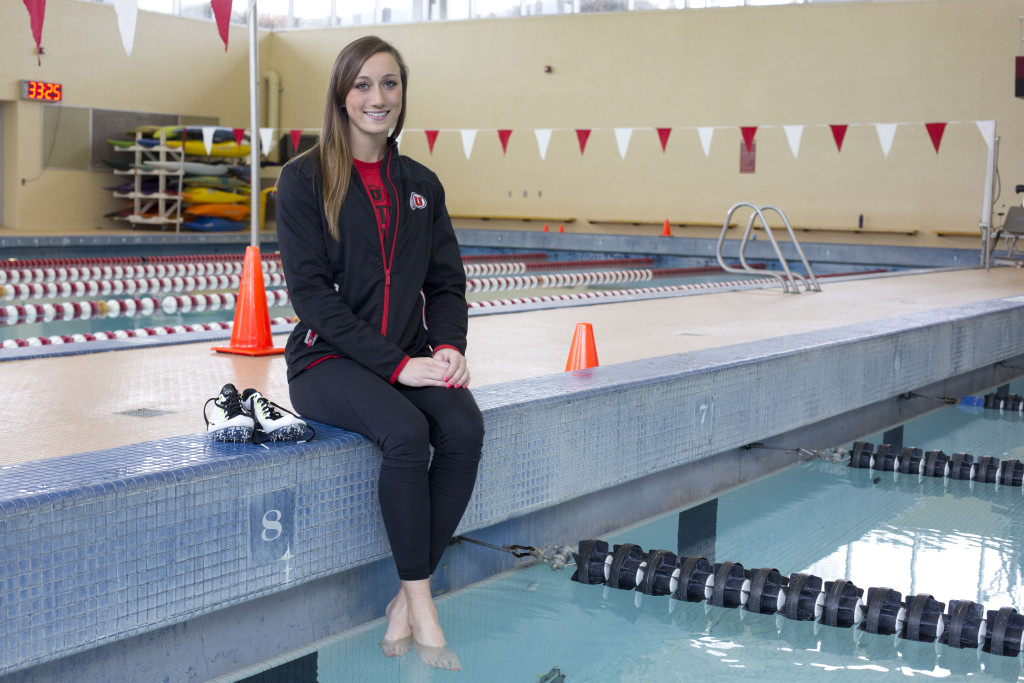 SUCCESS ON THE TRACK AND IN THE POOL
Two-sport athletes have become more common in collegiate athletics in recent years, but hardly do you hear a story similar to Utah athlete Rhianna Williams.
The sophomore from Colorado is a member of both the swim and track teams here at the U, causing some friends and family to think she has gone insane.
Read the full article by Griffin Adams here.
---
DABRITZ HAS A PUPPY LOVE ON VAULT


As Georgia Dabritz begins her run on vault she's calm, she's focused, she's thinking about… puppies?
After years of doing skills, the Red Rocks know their bodies know what to do, they just have to get their mind to stop worrying so much.
"You want to be focused, but you don't want to be thinking too much, because then the negative thoughts can find a way to sneak in there," Tory Wilson said.
During Dabrtiz's freshman year, Utah co-head coach Greg Marsden told Dabritz to think about puppies and blankets to help her clear her mind as she was preparing to vault.
Read the full article by Ryan Miller here.
---
HUNTSMAN RECORD CROWD SAYS GOODBYE TO SENIORS IN UTAH'S WIN OVER MICHIGAN


On four separate occasions, the Huntsman Center crowd rose to its feet to say good-bye to Utah's four seniors.
In their last regular season meet at the Huntsman Center, Utah's seniors — Tory Wilson, Corrie Lothrop, Georgia Dabritz, and Becky Tutka — performed all in a row on floor to close out the meet, and they didn't disappoint.
At the completion of each of their routines, the Huntsman Center record crowd of 16,019 gave a standing ovation, and the seniors deserved every bit of the applause.
All four scored at least a 9.925, launching No. 4 Utah to a 198.250-197.675 victory over No. 5 Michigan and to its third best score in its history.
"It was everything we could have hoped for in our last home meet of the regular season," Wilson said. "We really just wanted to go out and hit everything they way we knew we can and we did and it was a lot of fun."
Read the full article by Ryan Miller here.
---
K-UTE Radio
Tune into kuteradio.org to listen. Be sure to follow the Facebook page: K-UTE Internet Radio for show information and concert ticket giveaways.
YOUR CHANCE TO WIN DURING MARCH MADNESS
It's March Madness time. The Daily Utah Chronicle wants you to fill out a bracket, create groups and compete with your friends for prizes. Visit dailyutahchronicle.com/march-madness to sign up. The last day to sign up is Thursday, March 19.
Watch for the NCAA Brackets printed in The Daily Utah Chronicle the week after Spring Break.
University of Utah Student Media and K-UTE Internet Radio on Facebook
@Ustudentmedia and @K_UTE on Twitter.
Tune into Subcosmic radio every Tuesday at 6 p.m. for alternative music that is out of this world.
Twitter: @subcosmic_beats
Brunch With U, every Monday and Wednesday morning at 10 a.m., provides not only food for thought but also brings the story of campus to life.